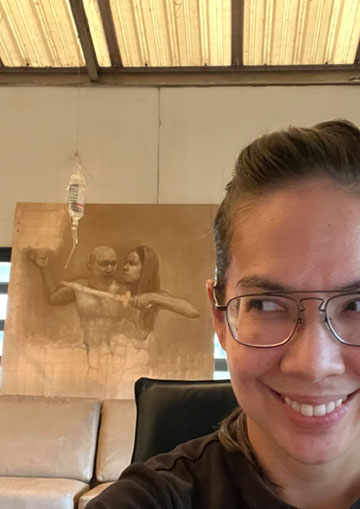 "In this prescription-riddled world, we are beginning to lose the capacity to think for ourselves. Perception has turned into referral rather than a desire to find new answers."
In her Civilization series, Isa Pilapil's "Rorschachian experiments" invite the audience to confront their sanity – A true test of freedom where clues or answers cannot be provided by any search engine. Did the gods and demons in the paintings come from your own head? These pigmented reunions between concept, theory, and physical practice, grant the viewer an opportunity to break free from recycled information to once again create a new diagnosis of their own.
Isa Pilapil graduated Magna Cum Laude from the University of the Philippines, with a B.A. degree in Studio Arts. Primarily a visual artist focusing on traditional media such as oil, watercolor, and pencil, she is also well versed in digital drawing and graphic design. A strong advocate of Classical Art Theory, all her work is based on its foundation.
In 2002, she formed and played in Demiurge, a metal band that would later find modest renown in the local underground scenes. In 2004 she founded Demiurge Digital, a multimedia firm that reconciles visual art with her other passion, metal music. The firm houses a recording studio that specializes in live instrument tracking, mixing and digital mastering, sound design, voice-over and music production, and graphic design. The studio has built a solid reputation in both local and international music communities and in turn, it has paved the way for commissions for album and promotional art for metal bands, record labels, and publications. These grant her the opportunity to balance out her pixel portfolio with traditionally made works on canvas and paper.